Kingdee and HSBC help businesses stay focus on business development and grasp business opportunities in a timely manner. HSBC is committed to providing comprehensive trade solutions for customers in various industries. From import, export, and guarantees to open account trade and receivables financing, HSBC is here to help companies like yours expand more effectively.
Combined with Kingdee's ERP system and HSBC's digital banking solutions, we provide our customers with solutions that meet their needs at all stages, helping them grow extensively.
Kingdee users can enjoy HSBC's trade services offers worth up to HKD25,000
HSBC partners up with Kingdee to provide Kingdee users with the following exclusive offers* during the promotional period:

Leave us your contact by visiting the link below or call HSBC's Trade Client Services team now.
Call HSBC's Trade Client Services team: +852 2748 8288 and press #, 4, 3, # after language selection
Simplify your trade finance application with Kingdee's mini programme
To make the application process simpler and faster, Kingdee users can download the required data to apply for trade financing online from HSBC through Kingdee's ERP mini programme. Users will receive an indicative offer in as fast as 2 working days upon completing the application, making financing swift and efficient.
Application steps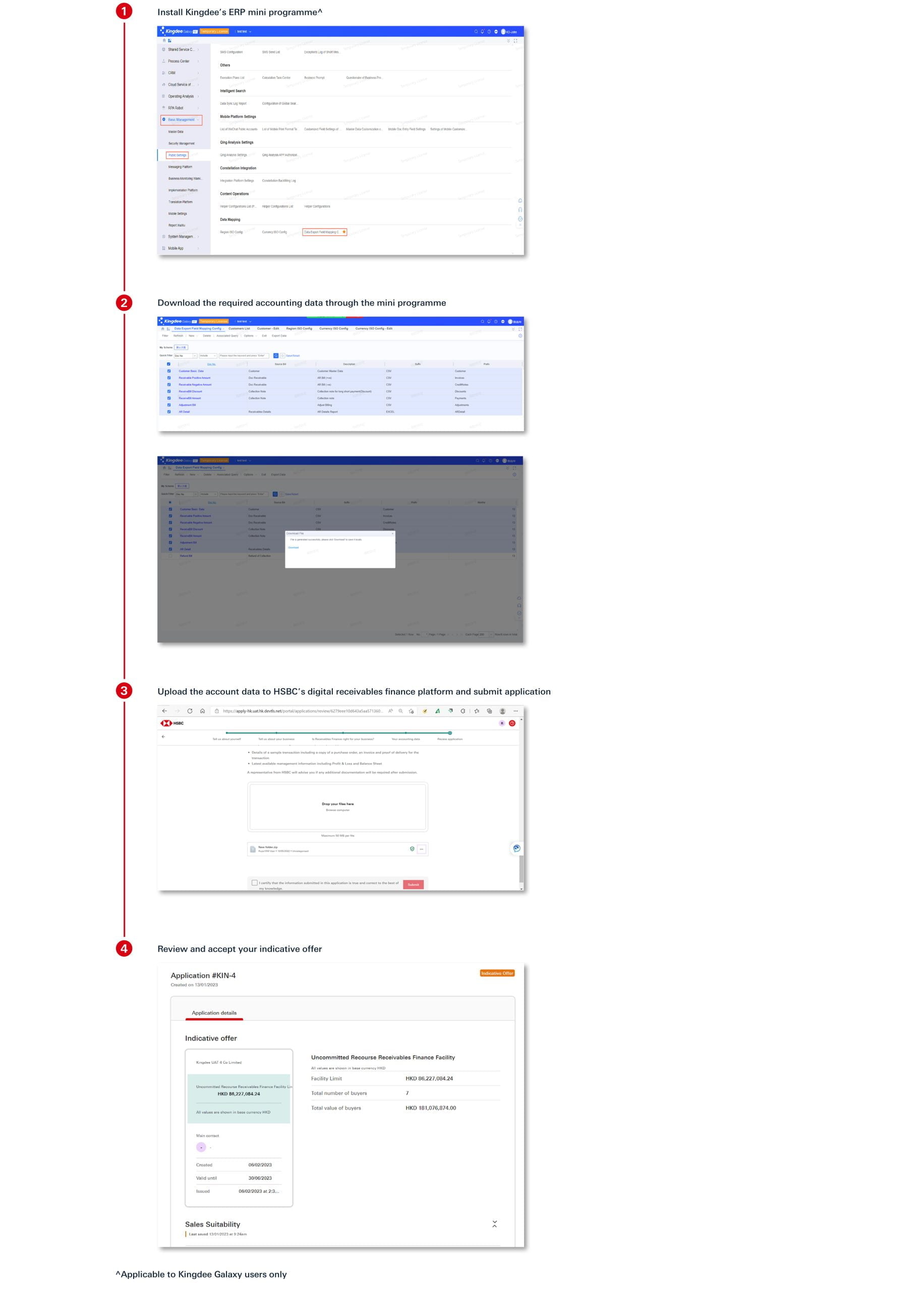 Click the link below to learn more about HSBC trade services:
Become a new HSBC trade customer now to enjoy a welcome offer worth up to HKD25,000 in HSBC trade services. Simply leave us your contact by visiting the link below or contacting HSBC's sales team now.
Call HSBC's sales team: +852 2748 8288 and press #, 4, 3, # after language selection
Reminder: "To borrow or not to borrow? Borrow only if you can repay!"